Barefoot, good for your health!
Walking barefoot is good for your health and has an important positive effect on various aspects of our body.
---
Frequently walking barefoot on different surfaces not only stimulates the heart and blood circulation, but also regulates blood pressure.
Furthermore, walking barefoot is good for coordination, strengthens the back muscles and promotes intestinal function. In fact, you get a natural foot massage or do spontaneous foot reflexology.
The silence and nature in Lieteberg also provides spiritual peace and relaxation.
Natural foot massage
A relaxing foot massage activates the body's natural healing process and energy flow. A relaxing foot massage activates the natural healing process and the energy flow of the body. By stimulating pressure points on the sole of the foot, the blood circulation will improve, the organs will be activated and the nerves will be stimulated. When walking on the barefoot path you do this in a natural and relaxing way. Walking barefoot is pure relaxation aimed at unwinding, letting go, forgetting the hustle and bustle in order to come to an inner total peace.
Foot reflexology
Walking on the barefoot path is actually a natural foot massage or foot reflexology.
Foot reflexology is one of the most powerful natural therapies to combat the stresses and strains of modern life. With foot reflexology you bring more and more balance in the physical, emotional and psychological energy system.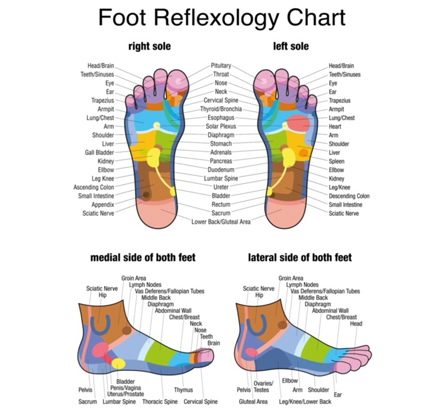 Foot reflexology is a holistic treatment of the entire body through reflex zones located on the feet. Holistic means that the body is viewed as a unity of body and mind. The reflex points are connected to organs, glands, joints and muscles via nerve paths. Through massage and pressure on the reflex zones of the foot, the energy flow in the corresponding organs and glands of the body is stimulated.
A foot massage promotes, among other things:
the circulation of the body
the hormone functions
lymph flow
takes care of waste disposal